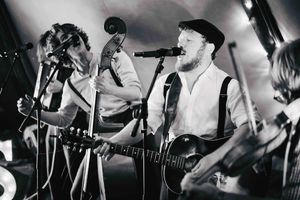 "Thanks again for playing at our wedding - you and the rest of the band helped make it the absolutely best day for us … all our guests keep telling us how amazing you were as well! :)" 
- JANE AND ALEX, Jan '19
 

"Extremely responsive and easy to communicate with (we exchanged A LOT of emails!) and nothing has been too much to ask. Rupert and the band even kindly agreed to play me down the aisle – they prepared their own arrangement of a special song and sent it to us in advance to check we were happy with it. They played some lovely songs while we signed the register in the church – this set the tone for the whole day as everyone ended up getting involved and singing along! "
- DINA AND JOE
"You made our wedding the best day of our lives:) Icing on the cake of a fantastic day- long celebration and we can't thank you enough."
— Marce and Rich
"Just wanted to say a huge thank you for playing at our wedding on Saturday evening. You were even more incredible than we remembered... A million thank yous wouldn't be enough!!"
-Em and Chris, July '21
"Thank you so so much for playing on Saturday, you really turned what was already a memorable occasion into something very very special. We couldn't have asked for a better way to celebrate than having you play for us. You really topped off a fantastic day so thank you and thank you again, you're now forever part of our married lives!"
— Agnes and Amos, july '18